Questions about emptying
What is an drain ?
Draining is the preliminary step before replacing oil with an engine.
It is used to empty the tank of its old oil to replace it with a new oil.
The emptying must be done on all types of vehicles: car, motorcycle, moped, pleasure boats, agricultural machinery, construction machinery ...
Regular oil change is essential to ensure the proper operation and longevity of gasoline or diesel engines. It is regularly accompanied by a change of oil filter.
Why drain the oil ?
Why change the oil? Over time and depending on the use of a vehicle, the quality of the oil deteriorates and can clog the engine. Draining makes it possible to regularly renew the oil in the engine: thus a good lubrication of the parts and a good evacuation of the impurities for a better operation of the vehicle and a longer longevity.
Pour prendre soin de son moteur, il est donc important d'effectuer les vidanges et de changer le filtre à huile aux intervalles recommandés par le constructeur.
How often to drain?
For all types of vehicles, the frequency of oil change is recommended by the manufacturer and is stipulated in the maintenance booklet.
Draining must be carried out at least once a year, or depending on the use of the vehicle, every 10,000 km.
Also remember to drain motorcycles, scooters, quads, go-karts, jet skis, jet skis, snow bikes, and even your lawn mower.
Wholesalers, for the boats also the emptying is necessary at least once a year.
Make emptying your boat easily, without taking it out of the water, with our professional drain pumps.
Farm operators, maintain your farm machinery and regularly drain your tractors, harvesters and others.
Construction professionals, also think about emptying your construction equipment to ensure the longevity of your fleet.
Tableau indicatif de fréquence de vidange
| | | |
| --- | --- | --- |
| | FREQUENCY | Mileage |
| CAR | Once a year | About 10,000 km |
| MOTORBIKE | Once a year | 5,000 km to 12,000 km depending on model |
| SCOOTER | Once a year | About 3,000 km |
| BOAT | Once a year | Differs according to the model |
| MOWER | 50 hours of use | |
What to check during an automobile drain ?
Draining is an opportunity to check several elements that contribute to the proper functioning of the engine :
- Oil filter. Oil filters are used to trap impurities and become clogged with time. Change the oil filter as recommended by your manufacturer.
- Fuel filter gasoline and diesel. Fuel filters are used to trap impurities and water in the fuel. Change the fuel filter every two times.
- Air filter. For proper engine operation, the air filter must block impurities from the air. Change the air filter every two oil changes.
- Cabin filter. The cabin filter guarantees the quality of the air inside the vehicle by filtering the pollution before the arrival of air. Change the cabin filter every 20,000 kilometers.
How to change the oil filter?
You do not have to change your oil filter at every oil change. An oil filter usually changes every 30,000 kilometers. But it is better to refer to the recommendations of your manufacturer in the manual of your vehicle to make sure.
To change your oil filter, remove your filter in place using a wrench that matches the position of the oil filter in the engine.
Be careful, the oil filter may still contain some used oil; protect your hands with vinyl gloves and put the oil in a recycling container, being careful not to drop it: used motor oil is very polluting for the environment.
Before installing your new oil filter, wipe the oil filter holder. Once the support is clean, attach the new oil filter and fill the oil tank with a new oil adapted to your vehicle.
What are the risks of not flushing?
An oil that is not changed clogs the engine more quickly, which decreases the performance of the vehicle and consumes more fuel. Regular emptying keeps the engine longer and avoids costly repairs.
The associative garages in France where to do your drain
Vidange Facile shows here the list of associative garages and self-service garages in France, by region.
You are the owner of an associative garage and you are not listed here, please let us know by sending us your details via our contact form.
Questions about drain pumps
Which pump to choose for a car?
Our manual suction pumps are designed to drain all types of cars. Find our full range of pumps in the section "All our pumps". Draining his car is a necessary gesture to the proper maintenance of his engine. By carrying out an oil change every 15 to 20,000 KM, on average two oil changes per year, you will save more than 100 € per year compared to garage rates.
The car drain pump that you need to purchase must be based on its type of private or semi-professional use and the current capacity (in liters) you need. Often passenger car engines contain just over 5 liters of oil. In this case we recommend Pompe Pela PL 6000 whose capacity is 6 liters.
Which pump to choose to drain the engine of my boat in a hold?
The model of pump to be chosen depends on the quantity of oil to extract knowing that you can if you wish to carry out the extraction in several times. We advise you at least the model PL 6000 for a particular purpose that will also allow you to empty your car. For a more intense use we recommend the Reference Pump Pro 650.
How to empty it with a suction pump?
The drain pump works by inserting the sensor into the dipstick (where the oil level is located). Then operate the pump 5 to 15 times depending on the pump models to initiate aspiration. Then the pump performs the drain alone and its tank fills with used oil by suction.
The use of the drain pumps is not messy. Very easy to use, the drain pumps operate by suction without having to slip under the engine.
Measuring probes
Your vehicle's dipstick is the most reliable indicator to check if your drain pump's sensor is right for your vehicle.
To do this, remove the dipstick from your vehicle. Using the diagram above, check that the probe does not exceed the diameter of the guard and that its minimum length is longer than your gauge.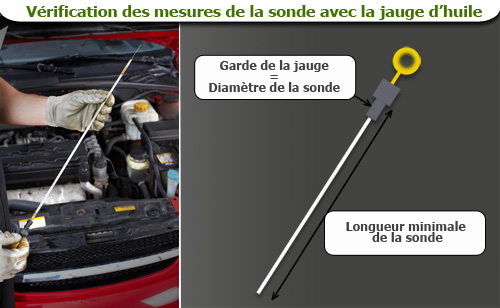 What can be drained with suction pumps?
Draining of motorized vehicles
Suction pumps are used on all vehicles: drain a car, a motorcycle, a quad, a pleasure boat or a small fishing boat ...
Oil drain pumps PL-2000 et PL-6000 are the most suitable for home use.
For professional use, for mechanics, wholesalers, farmers and construction professionals, pumps with larger pumping capacity, such as PL-400 pro, PL-6500 pro et la PL-14 pro are the most suitable.
Emptying aquariums and piping
Emptying your aquarium easily by pumping is also easy with the drain pump.
Suction pumps are also very useful to plumbers for waterlogging.
For these uses, all the emptying pumps are adapted, depending on the pumping capacity you are looking for.
Suction pumps can be very useful for pumping water from boat bilges. You can find the proper vacuum drain pumps in clicking here.
What types of oils can the vacuum pumps suck ?
Suction pumps can aspirate semi-synthetic and synthetic mineral oils as well as hydraulic and hydraulic Biodegradable oils (Eco lubricants) whose viscosity can be variable knowing that the suction flow rate will be a function of the diameter of the probe. the temperature of the liquid which must not exceed 60 ° C.
Questions about engine oils
Which motor oil to choose ?
There is different type of oil. Semisynthetic oils are the most commonly used but in some cases it will be necessary to use a 100% synthetic oil, or a mineral oil. Refer to your manufacturer's recommendations in your vehicle's manual.
How to get rid of used oil ?
Suction pumps can collect used oil from your vehicle, but what can this oil do next ?
The recycling of waste oil is regulated by law and must be handled by professionals and specialized organizations in their destruction or recycling.
Waste disposal
The waste disposal centers have specific containers dedicated to the recovery of waste oil. List of waste disposal centers in France
Repair shops
Car repair professionals also offer free recovery of used oils.
Port areas
For fishing professionals and boaters who empty their boats, ports are normally equipped with used oil recovery.
Recycle your oil. Respect the law and the environment
Used oil should not be thrown in the trash or disposed of in sewers.
If you dump waste oil into wastewater systems, it may clog filters in water treatment plants.
Rejecting used oil in the wild or burning it in the open is forbidden by law.
The destruction of the oil by fire requires high temperatures and specific smoke treatments. If it is performed in bad conditions, it generates toxic refueling in the atmosphere. When the combustion temperatures are too low, carcinogens are released.
Be careful, if you burn your used oil or if you discharge it in nature or in the sewers, you are liable to a fine.
If the oil is extremely polluting, it is because it has a lower density than water. For example: 1 liter of used oil can cover an area of ​​about 1000m² of water and reduce the oxygenation of fauna and flora.
Recycled used oil is used to produce base oil for the production of new lubricants.
These are roughly 90% of used oils produced that are recovered and processed each year. Rather positive results, but we must not relax our efforts and Vidange Facile wants to participate in this national awareness by informing you of good practices to follow.
By helping to collect your used oils and get them into the processing circuit, you limit the impact on the planet and preserve a favorable environment for future generations.
The Ministry of Ecology, Sustainable Development, Transport and Housing, DREAL and ADEME set up systems for the collection and treatment of used oils that enable them to ensure monthly monitoring.
Collection of used oils
The collection and recycling of used oils are very strictly regulated by French law. "Used oils" means:
black oils: engine oil and industrial oils (quenching, rolling, wire drawing and other whole metal machining oils).
light oils: oil hydraulic circuits (bleeding brakes, clutch ...) and turbines.
Motor oil (automotive lubricants) and industrial lubricants must be collected by waste treatment professionals.
Any holder of used oils has the obligation to return them to an approved oil collector or to arrange for their own transportation to an approved disposal center.
Used oil collectors are approved by the prefecture of their department. And collecting in a radius that can cover several departments.
Used oil collectors collect free of charge any quantities greater than 600 liters of used oil, within a maximum of 15 days, and forward them to an approved disposal center.
The collection of used oils is free only for oils that have not been mixed with other liquid waste (water, solvents, hydrocarbons, soluble oils, cooking oils, pyralene and other products containing PCB ...).
In each department, waste oil owners must have watertight facilities accessible to vehicles responsible for collecting them.
Waste oil collectors approved in France
- Garages, Dealers, Drain Stations, Gas Stations
- Road, river, air, rail, passenger and freight transport companies
- Factories, workshops, industrial enterprises
- Agricultural professionals and garages specialized in agricultural machinery
- Communities and Public Works Services
- Debris with used oil containers for private individuals
- Services of the Army and the Gendarmerie
- Companies dealing with waste containing used oil (eg automobile demolition, oil filter treatment).
Professionals in these categories, to see the list of approved used oil pickers in your department, see here our departmental directory on the page Used oil collectors.
Questions about the brake bleeder
Bleeding and draining hydraulic circuits
Bleed Hydraulic System Tutorial
Bleeding a passenger vehicle's brakes
Bleed the main wheel cylinders
Questions about free delivery
In order to benefit from a free delivery, it is advisable to place an order of an amount greater than or equal to 20 euros and to choose the mode of delivery MONDIAL RELAY.