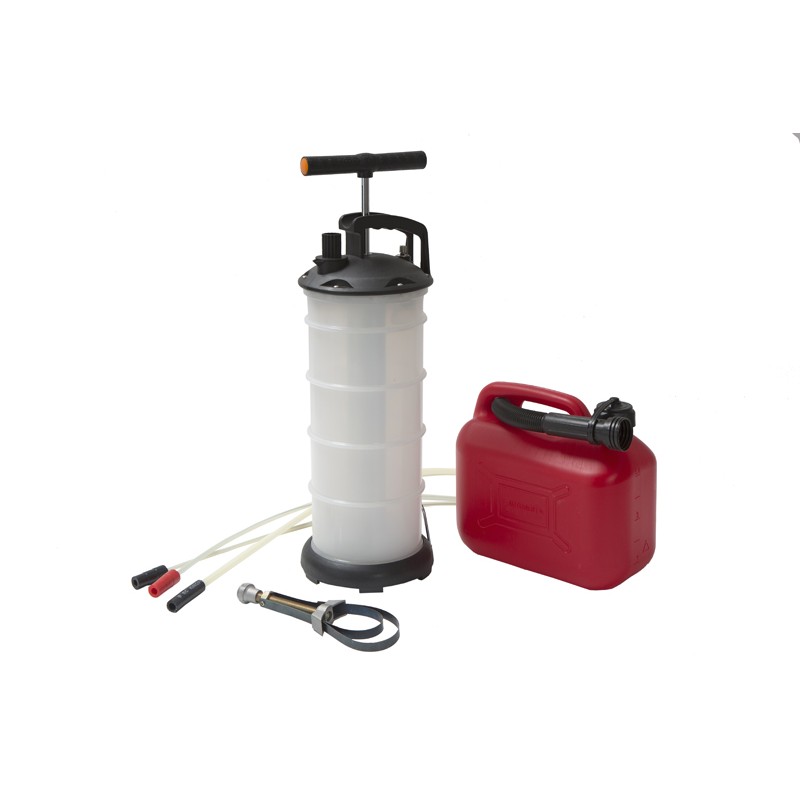  
Strap wrench 4 L pump set
€102.50

VAT included
Unit price
Instead of €106.18
Product in stock
Strap wrench 4 l oil extraction pump set
- 1 4 liter vacuum oil extraction pump
- 1 5 liter used oil collecting drum
- 1 oil filter strap wrench
No need to take your boat out of the water !
Quick and clean oil change. Just stand up !
Strap wrench 4 l oil extraction pump set
The capacity of vacuum oil extraction PL-4000 pumps is 4 liters. 
This very quick oil extraction pump is designed to perform professional oil changing on cars, motorbikes, yachts, fishing boats, farming machines, building machines.   
The  5 liter collecting drumis designed to take used oil to the nearest waste collection site. This drum is approved for transporting used oil and is supplied with a pourer.
The oil filter strap wrenchis used to perform the safe dismantling of the oil filter. It is particularly recommended for oil filters with diameters from 50 to 95 mm. 
Using our oil extraction pump: quick and easy
Insert the extraction probe into the oil tank, to the bottom.
Start vacuum action by rapidly pumping out 5 to 10 times.
Oil is then automatically changed.
The tank of your pump is then filled in. You can control the level as the tank is semi-translucent and is graduated in liters.
Pour your used oil into a dedicated drum.
Using a strap wrench to remove oil filter
Once you have drained your vehicle, using a vacuum oil extraction pump, you have to change the oil filter.

Using your oil filter strap wrench, remove the used oil filter.
Be careful as they can be some oil left inside the filter.
Fill the tank with new oil.
Prior to fitting the new oil filter, oil the rubber seal.
Firmly screw the oil filter by hand.
Never tighten the new filter again using the oil filter strap wrench.
This strap wrench can also handle pipes whose diameters range from 50 to 95 mm.
Technical features of a 4 litre oil extraction pump : 
- Capacity : 4 liters
- Total assembled height : 50.8 cm
- Tank diameter : 16 cm
- Semi-translucent tank graduated in liters
- Supplied with 2 extraction probes and an extension
- Extraction probe length : 120 cm
- Extraction probe diameters : 0.570 cm and 0.664 cm
- Extraction probe extension : 100 cm
Technical features of a 5 liter collecting drum :
- Drum approved to transport used oil
- With a pourer
- Capacity : 5 liters
Technical features of an oil filter strap wrench :
- Can handle oil filters with diameters from 50 to 95 mm.
In case you require larger capacities, please refer to our other sets of oil extraction pumps, including 2.5 liter, 6 liter, 6.5 liter and 14 liter pumps.
Vidange Facile (Easy-Draining) also proposes a large range of oil change accessories.
No customer reviews for the moment.
9 other products in the same category:
Related articles on blog
No related articles on blog